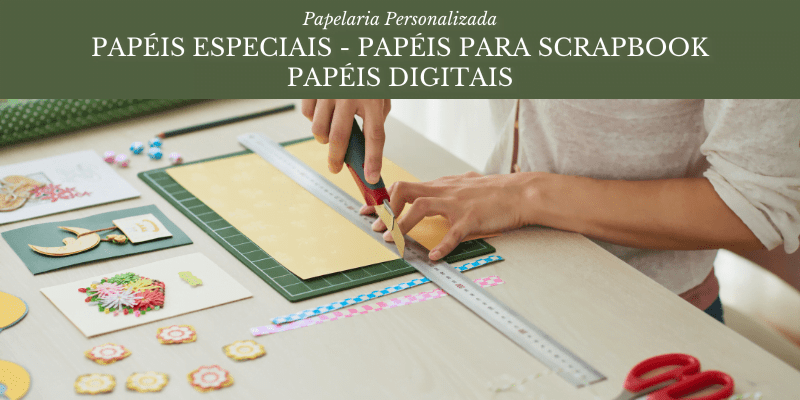 A complete guide to the papers used in custom stationery
Continuing the series on the papers used in personalized stationery, today, I'm going to talk about special papers, scrapbook papers and digital papers.
If you haven't seen the other posts in the series about the papers used in custom stationery, I'll leave the link below for you.
Part 1 – Paper
Part 2 – Paper format
Part 3 – Grammature of papers
Part 4 – Types of Paper – Offset Paper
Part 5 – Types of Paper – Bond Paper
Part 6 – Types of Paper – Coated Paper
Part 7 – Types of Paper – Glossy Paper
Part 8 – Types of Paper – Matte Paper
Part 9 – Colored Papers
You might be interested in
Special papers, scrapbook papers and digital papers
Special papers
Special Papers are all papers that receive coatings and resources to have differentiated, special attributes.
There are papers with a metallic, pearly, textured, glitter, etc. finish.
There is a great variety of colors and weights of these papers. Some of these papers can also be stickers.
Because they are special, these papers are usually more expensive than other papers, but they can enrich our jobs, allowing for different opportunities. Just be creative!
Papers for Scrapbooking
Before talking about papers used for scrapbooking, I find it interesting to talk about what scrapbooking is.
Scrapbooking is a technique for customizing photo albums or diaries with photo clippings, invitations and any other material that can be pasted and kept inside a book as a reminder of good times.
Papers for Scrapbook are papers measuring 30.5 cm x 30.5 cm (or 12 inches x 12 inches), weighing 180 g, which are already printed and available in different themes.
Typically, scrapbook papers are acid-free and lignin-free.
One of the most famous scrapbook papers is Cardstock. This paper is very reminiscent of cardboard, and is commonly used in plain colors to make the base of the scrapbook.
Digital papers
We don't always get the papers in the desired prints and/or colors. In this case, it is possible to create a Digital Paper and print it on Offset Paper or Photo Paper. You can also use Digital Paper to customize a product.
There are paid and free Digital Papers. For quality printing, Digital Paper needs to have a great resolution. Recommended is 300 dpi.
When using Digital Paper, you must be careful with the license to use the file.
For example, you should check whether the papers can be used for product production (commercial use) or whether they can only be used for personal use. Some creators ask you to indicate who created the file (called attribution).
The tip I give is: always check the license to use the file.
Remember that the fact that the file is available for free, or the fact that you have purchased the file, does not mean that you can distribute it to whoever you want, let alone sell the file.
If someone wants to use the same file as you, instead of sending the file, send the link to the site where you found it and where the person can also download it for free.
By doing so, you will help promote the site that created the file, provide resources for it to continue creating new files, and ensure that you will not have future legal problems.
There are several websites with free Digital Papers (eg FreePik). Here on the Blog, we provide several free digital papers.
Don't miss the next post
The next post will be the last in the series about papers used in custom stationery and, in it, I will talk about paper storage.
Don't miss it, the post will be published on 03/19/2021.